Milan | October 12-13, 2013
Museo Nazionale della Scienza e della Tecnologia Leonardo da Vinci
The 4th edition of Uovokids, in addition to reaffirming the success of the project and attracting a wide audience, was filled with important international and Italian collaborations.
Among the most intriguing projects of the festival: QuattrOcchi, a periscope through which children and adults were able to observe the world simultaneously through each other's eyes; Rock&Animals a workshops in which kids recorded their first mini-album and created its album art; Singing Solar Birds, a workshop for constructing your own robot in the form of a bird running on solar energy!
Among the international participations of note, Milimbo, a graphic design studio and publishing house based in Valencia, for the first time in Italy thanks to Bamboo: in Build your own story kids built scenes from their own stories, generating imaginary architectures with the use of recycled cardboard paper.
Over 5,000 people participated in the 4th edition of the festival.
Milan | October 28, 2012
Museo Nazionale della Scienza e della Tecnologia Leonardo da Vinci
The 3rd edition of Uovokids took place in October 2012 and presented 18 projects throughout the museum. Among the most original, Home soft home, taught kids to distort forms by constructing and deconstructing simple elements into unexpected creations; the web art project, Meta-play, a fun and at times moving interactive, audiovisual experience for kids and adults; and finally the marvelous installation, La dimora del lampo, a black cube that collects the fears and visions of children into an imaginative trip, powerful and dreamy, between lights, sounds, and a giant kaleidoscope caught between darkness and surprise.
Of note, a collaboration with Sky Arte that produced a mini-series on Uovokids that was broadcasted nationally.
The 3rd edition registered the participation of over 3,000 children and adults in just one day!
Milan | February 11-12, 2012
Museo Nazionale della Scienza e della Tecnologia Leonardo da Vinci
Following the great success of its 1st edition, Uovokids presented its 2nd edition in February 2012 with over 18 events presented by 15 artists originating from 7 different countries.
Among the most exciting: Threelloon, a balloon with three air entries that requires the intimate collaboration of three participants, testing the silent communication skills of kids and adults; Collective Paper Aesthetics a game of design modules and a fun way to bring kids closer to the world of architecture through free and creative construction; MIO (ovvero apparizioni e sparizioni di una scuola sperduta tra i boschi) was the result of a 3-day workshop made up of names, storytelling, colors, jumps in time and space for an extraordinary outcome! Finally Canto d'amore, creates created starting with the sound of a harp and the voice of a soprano, which are donated to the spectators children and adults in a touching performance created starting with the sound of a harp and the voice of a soprano, which are the artist's gift to spectators, in a touching performance.
The 2nd edition of the festival has been a great success among the public, recording the participation of over 3,700 adults and children.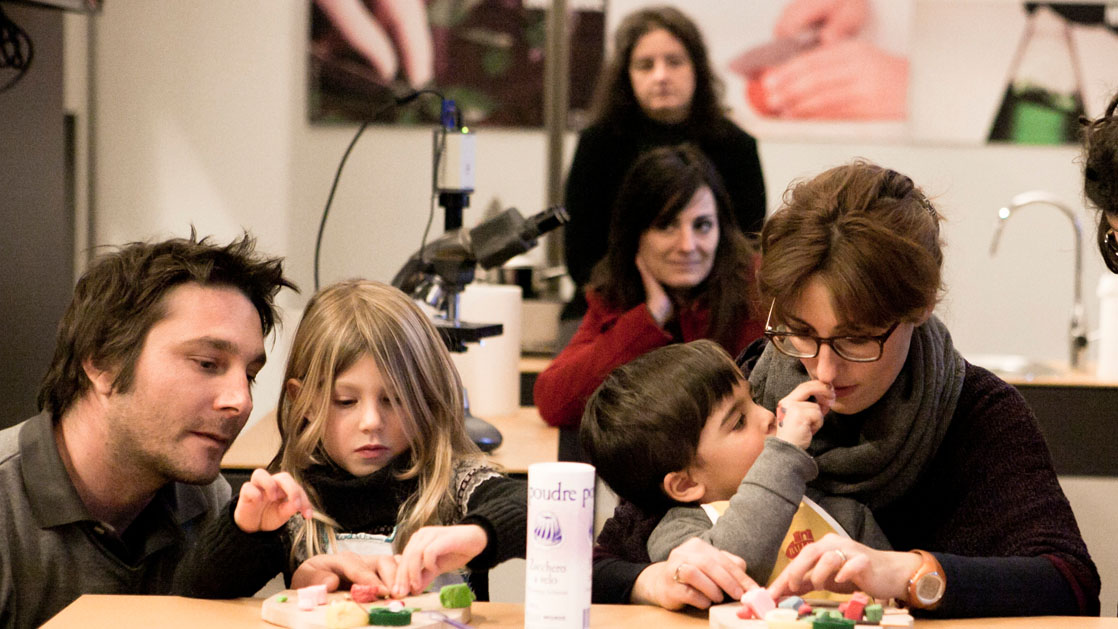 Istanbul | June 11, 2011
Uovokids for Club to Club, SantralIstanbul
In June 2011 Uovokids was in Istanbul in occasion of STATE OF INDEPEN/DANCE organized by Club to Club. Two Uovokids projects were exported to the Turkish metropolis: Il saltafavole created by Zetalab, an interactive video installation for kids and parents, and La musica è ovunque, an electronic music workshop for discovering sounds generated from the simplicity of everyday objects.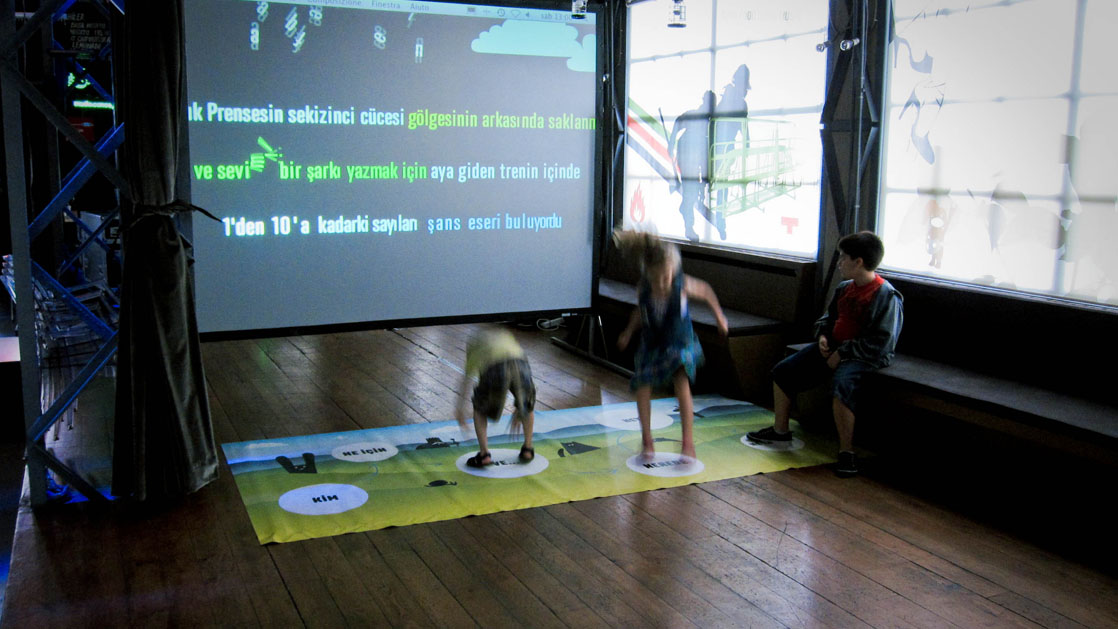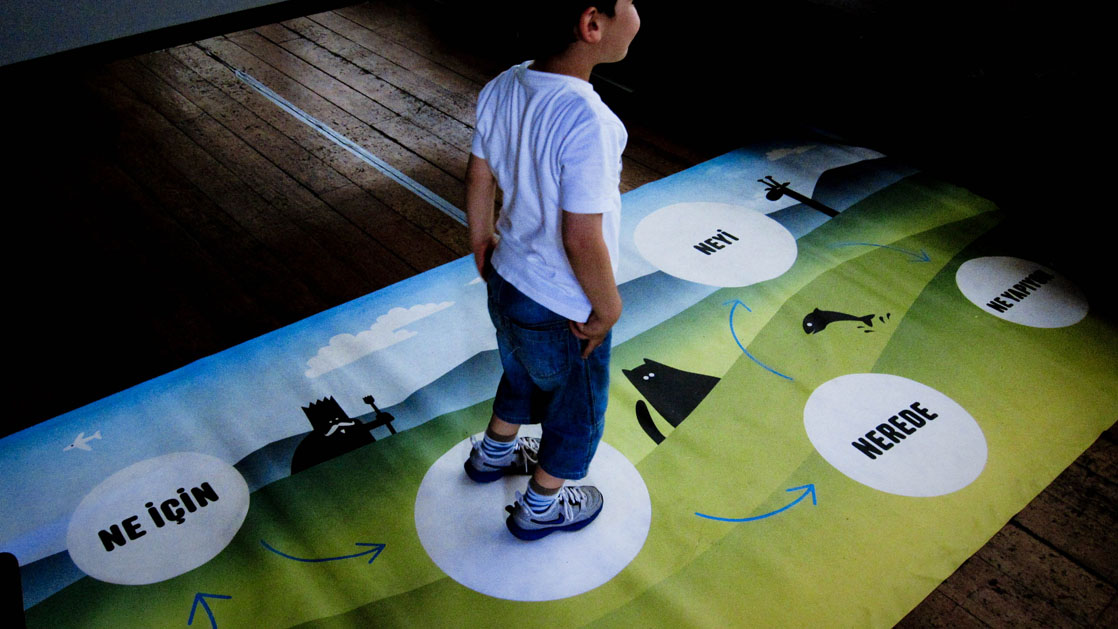 Milan | May 14-15, 2011
Museo Nazionale della Scienza e della Tecnologia Leonardo da Vinci
The 1st edition of Uovokids took place in May 2011 after a successful preview event in November 2010. Over the span of two days at the National Science Museum of Milan, the festival embarked on a stimulating collaboration, consolidated in the following editions, thanks to a constant dialogue and exchange with the museum. The 1st edition included 21 projects created ad hoc for the festival by 21 Italian and international artists.
The festival registered over 3,500 participants during its two-day span.